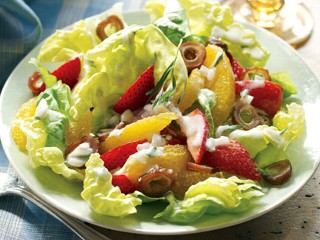 Servings: 6-8
Savannah restaurateur and Food Network star Paula Deen joined "Good Morning America" to whip up a few of her favorite home cooking recipes from her book, "Deen Family Cookbook."
"Whip up a bowl of this light and refreshing beauty anytime you want to make salad a little more special than just plain greens. It's just so perfect for brunch on a hot summer day, it'll perk you right up!" she said in the book.
Recipe courtesy of Paula Deen's The Deen Family Cookbook; Simon & Schuster 2009.
Ingredients
Dressing
6 tablespoons buttermilk
1 tablespoon freshly squeezed lemon juice
2 teaspoons shallots, finely chopped
1/2 teaspoon fresh tarragon, chopped
1/4 cup vegetable oil
Salt and pepper
Salad
1 head Boston lettuce, rinsed dried and torn into pieces
2 medium navel oranges
1 pint strawberries, hulled and quartered
1/2 cup pitted dates, thinly sliced crosswise
Cooking Directions
To make the dressing, whisk together the buttermilk, lemon juice, shallot, and tarragon. Slowly whisk in the oil. Season to taste with salt and pepper.
In a bowl, coat the greens with all but 1/4 cup of the dressing. Arrange the greens on individual serving plates.
Cut off the top and bottom of each orange, just exposing the flesh. With a sharp knife, follow the curve of the fruit to cut away the peel, completely removing the white pith. Slice out each segment of the fruit, cutting along the membrane. Divide the oranges, strawberries, and dates among the greens.
Drizzle each serving with the remaining dressing.