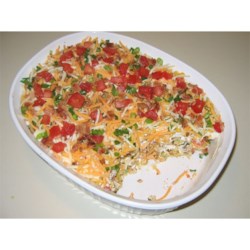 Ingredients
1 (16 ounce) package corn bread mix
10 slices bacon
1 (1 ounce) package ranch dressing mix
1 1/2 cups sour cream
1 1/2 cups mayonnaise
2 (15 ounce) cans pinto beans, drained
3 tomatoes, chopped
1 cup chopped green bell pepper
1 cup chopped green onion
2 cups shredded Cheddar cheese
2 (11 ounce) cans whole kernel corn, drained
Directions
Prepare corn bread according to package directions. Cool, crumble, and set aside.
Place bacon in a large deep skillet. Cook over medium-high heat until evenly brown. Drain, crumble, and set aside.
Whisk together the dressing mix, sour cream, and mayonnaise.
Crumble half the corn bread in the bottom of a large serving dish. Top with half the beans. Layer the beans with half of the tomatoes, green bell pepper, and green onions. Sprinkle with half the cheese, corn, bacon, and the salad dressing mixture. Repeat the layers. Cover, and chill at least 2 hours before serving.
Nutritional Information
Amount Per Serving  Calories: 580 | Total Fat: 41.5g | Cholesterol: 52mg
Source  AllRecipes
Note:  This recipe got a lot of positive reviews, people love it!