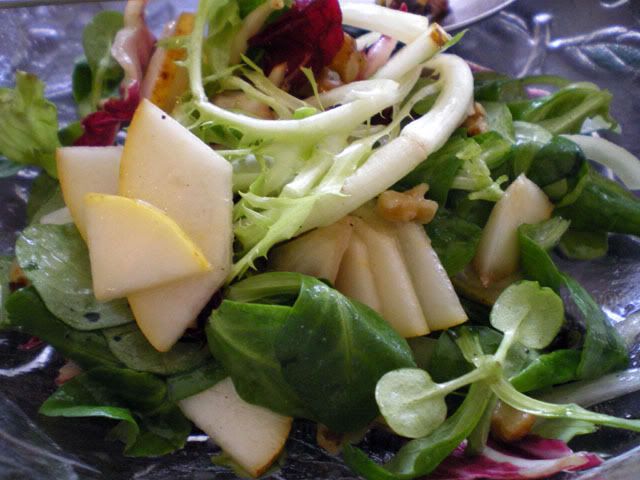 A tried-and-true totally great salad!!!!! If the measurements seem a bit odd, it's because I had to cut it down from a gallon recipe of a top-notch, great restaurant in town.This lady got down on her knees and begged for this recipe.
Ingredients:
  ● 2/3 Cup 100% maple syrup (the real thing)
  ● 2-1/2 tsp. Dijon mustard
  ● 1/3 tsp. maple extract (imitation maple flavor)
  ● 1/3 cup distilled white vinegar
  ● 1 tsp. kosher salt
  ● 1/5 tsp. cayenne pepper
  ● 1/2 tsp. minced fresh thyme
  ● 3-3/4 tsp. minced shallot
  ● 2/3 cup olive oil or olive oil blend
Directions:
Blend all ingredients well except oil. Then whisk in oil slowly to emulsify. (Best made the morning of, or the night before to blend flavors.) Toss well with:
Romaine lettuce
Mixed baby greens
Ripe pears (Anjou are nice) cut bite-size
Candied pecans
Plate greens. Dribble a squeeze of fresh lemon juice over each serving (this is an important step) and top with a little sprinkle of bleu cheese crumbles. Add more candied pecans if needed.
Source:  Finer Kitchen Forums